About Jonathan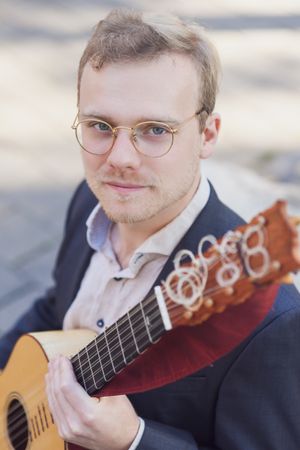 Jonathan is a specialist in period instruments of the lute and guitar family based in Toronto, ON. He is praised for his "energizing precision" (The Whole Note) and "wistful lute performance" (La Scena Musicale), while showcasing creative and engaging programming.
 
Versatile as a soloist, chamber musician and continuo player, Jonathan frequently distinguishes himself in the rich early music scene throughout Canada and abroad. He can be seen performing music on period instruments, solo and with ensembles such as Tafelmusik (Toronto), Aureas Voces (Halifax), Pacific Baroque Orchestra (Vancouver), Capella Intima (Hamilton), Theatre of Early Music, and in festivals and series including Music and Beyond, Festival Montréal Baroque, Festival Bach Montréal, and Musique Royale. Alongside soprano Sinéad White, Jonathan forms Duo Oriana, whose 2023 album 'How Like a Golden Dream'  is released under the Leaf Music label. Duo Oriana has been featured by Early Music America, as artists in residence at Toronto's St. James Cathedral, and embarks on their first tour abroad in September 2023 as they head to the UK and Ireland.
 
He has extensive experience in contemporary classical music, having premiered and performed large-scale works on classical, and electric guitar in series such as Live@CIRMMT and Montréal/Nouvel Musique. With the Cygnus Trio he has taken part in the commissioning and premiering of multiple compositions, all of which are recorded on their 2018 album 'Amalgam'. He is also deeply interested in developing repertoire for historical instruments, which can be heard through his own compositions and in composer collaborations. In September 2020 he premiered Arie Verheul van de Ven's piece 'Mosquito Touch' for solo theorbo, accompanied by animations by visual artist Alex McLeod. The premiere recording of his lute song 'Initium Noctis' can be heard on Duo Oriana's debut album 'How Like a Golden Dream'.
In 2020 Jonathan received a Master's in the Performance of Early Music at the Escola Superior de Música de Catalunya in Barcelona, studying in the studio of Xavier Diaz-Latorre. His master's research on historical stringings on the baroque guitar received the highest marks and is published in RECERCAT which archives research carried out at institutions in Catalunya. His classical guitar studies began in Penticton, British Columbia with Selwyn Redivo, and he received a bachelor of music with a double major in guitar and lute performance at McGill's Schulich School of Music, where he was recognized for outstanding achievement in Lute. He studied with Jérôme Ducharme and Sylvain Bergeron. 
In addition to being an instrumentalist, Jonathan is active as a singer in Toronto's choral music scene. He is currently working as a tenor lead at St. James Cathedral, Toronto, and is a founding member of Diapente, a renaissance vocal quintet based in Toronto.
Jonathan is also passionate about caring for and protecting the natural world. He has worked as an educator for the Ontario Turtle Conservation Centre, and can always be heard supporting at-risk species on this Earth that he loves. If he's not practicing, or performing with instrument in hand, you'll often find him appreciating life outdoors.