Today I spent some good time playing a great game called "break-a-stick". I named it myself actually. What do you think? It's a very enjoyable game really, especially for my 9 year old golden lab retriever Barley. It might be one of his favourite games in fact, maybe even as good as straight-forward fetch.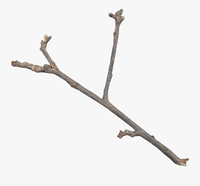 Here's how to play. You (the human) go around looking for small twigs - not *too* small, they should be anywhere between a forearm's length and a full arms' length and not be so thick as to make breaking any real trouble - and once you've collected half a dozen or so, find a good spot to sit down. The sitting spot is key. It should have some kind of platform nice enough for you to sit, not so high as a chair, since you want to be on dog level to optimize the playing experience. Also you will need to find a spot with a good amount of relatively flat turf around so the dog can lie down in ideally two different spots during gameplay. I found several good spots here by my current summer home on the St Lawrence river. One is a nice rough lichen dusted rock that sits beside a few beds of dry moss and a sprinkling of now late-summer browning-to-browned grass. The other is the bottom step of some rock stairs leading up to a small brown cottage, below which is an open space of green grass, with the edge of a dockside garden on the right shaded by a handsome black spruce, and to the right, a tall maple standing with it's root snaking in and out of the small bank of the hill. This second spot is good if you are looking to be near to other people, whereas the first is a more secluded - knowing what kind of atmosphere you would like is also a critical choice. Finally, once you have found this spot, you must find a way to shield the twiggy treasures from a very excited dog as you proceed to sit down. Once seated, with a nice pile of twigs behind you, or sheltered between you and a rock perhaps, you can, one at a time pull out a crackling little twig and place it in the mouth of your doggy companion. The dog will proceed to turn away from you so as to walk and lie down to better break the stick (the action begins!). Depending on the stick, it could take a second, or several, or it even took a minute with a freshly fallen stick, still quite flexible and unwilling to snap. After the first stick is snapped, proceed to hand the next stick, and so on, until you are out of unbroken sticks. The game concludes with a satisfying survey of an array of new *smaller* twigs scattered around the playing field. What a delight!!
Of course I described a play-through with an eager lab, but the simplicity of the game gives it an impressive adaptability, you could even make this a single-player game if you wish.
Why is this such a great game? Why do I keep playing it? It doesn't have complicated rules, or strategies to engage in, it isn't the result of rigorous play-testing and quality checks.
Partly, and mostly, it gives me joy to see the glee my companion takes from the game. Seeing the expectant eyes, and eager anticipation in Barley's face as I hand him a stick, and the calm satisfied stick breaking manoeuvre is somewhat like getting a warm hug inside. Barley's satisfaction becomes mine, and of course his actions amuse me, as I'm sure mine do his in his own dog way of understanding it. I might pause to think and wonder how doing such a simple repetitive action over again and again could be so enjoyable for him, and then I realize that I am currently enjoying exactly that - simplicity, repetition. I feed him the stick, he feeds my heart. 
*
It's been some time.
It's not only quite a long time since I posted a blog, it has also been some time now since I've given a performance, played music with colleagues and friends, had any clear idea what the next gig will be.
We all know why the latter part of that sentence is true. It's very clearly not only artists who are suffering uncertainty during these days of global pandemic, and we are familiar with the personal ways it has been playing out in our own minds, with our families, with friends, co-workers, and communities. For me the initial shock of cancellations, essential travel, and disappointments has come and gone, but there are still constant questions, and worries floating in my head. Summer performance dates have come and gone, and none have happened; we are at home keeping each other safe. This is important, and so I have found myself needing to think about what to me is important in what I do, and how can I make that communicable when I'm able to share it more in public again, and how to communicate that still even now.
Break a Stick.
This period of no performances, no rehearsals, no jam sessions, this is hard. What do I desire from a performance? When I'm giving it, I am sharing all those sticks that I have happily, and carefully selected in expectation of sharing them soon; I can't wait to give them away, *these* sticks are not going to Barley, and they're not sticks per se, they are the music, the art, and they are for you, whoever you are and wherever you are when you experience the performance. When I watch a performance I want to see that satisfaction in the performer, that excitement, and self-assurance about the excellent sticks they have picked. This attitude is perceptible. Watching the performance I want something to nourish me, something that I can savour and take apart. It may be savoured and remembered only for a moment, however long it takes to perceive the music, it may be remembered and considered long afterwards. The same energy goes between two performers, or not even performers, rather two taking part in the music together, a constant flow of nourishing energy. At the core there is Love. There is love expressed in sharing, careful preparation, and there is love expressed in acceptance and gratitude, and there is Love (capital L) that connects the two. I feed him the stick, he feeds my heart. This has been largely missing these days. Of course I can share things online, and true sometimes a comment or two, or a message comes in afterwards, but there are more barriers to perceiving this flow of energy. So there, I am missing this, and that is what is hard right now.
So how do I make sure that this is the attitude I bring to what I do going forward? I have not approached every performance with this love in the past, and if one side isn't giving, then the simple, repetitive task really does become dull.
Well, one gift this silent time of COVID has given me, is time to think, to plan, dream, and create, grounded in this excitement. It hasn't really been that silent for me at all actually. I've been rather voraciously studying, trying things out, and learning new skills, partly because it's how my personality plays out in times of restriction.
Along with this blog (I've been wanting to write again here for some time now), I am going to be sharing more with you in the ways I can from a distance, eagerly creating, and assembling sticks to share for when we meet again. I am continually touched by the support and interest you openly share with me, and it feeds me with the desire to give.
*
Now it is late as I am writing this, Barley is lying on the floor, already deep in sleep, getting ready for a new day and another round of Break-a-Stick. He's breathing deeply, and steadily. How do I wrap my head around this complex simplicity? Stop. Listen.
Joy.
*
Thanks for taking the time to read this blog today. If you want to share any thoughts please feel free to leave a comment on this post, or contact me at jonathan@jonathanstuchbery.com
You can also subscribe to my mailing list on my home page if you want to know what's happening next in my artistic life.